Congratulations to the Class of 2018!

$75,900 awarded to Maquoketa Valley 2018 Graduates!
Congratulations to the entire Class of 2018, and to the scholarship recipients pictured above! 
We salute your high school accomplishments and encourage you to move forward with confidence and courage in the pursuit of becoming lifelong learners!  
A complete listing of the 2018 scholarship recipients can be found here.
(Photo compliments of Wilson Photography & Nancy Lubben)
---
Doug Dabroski to Speak at Senior Awards Ceremony
The Maquoketa Valley Dollars for Scholars is pleased to announce that Doug Dabroski, MV Board of Directors, will be among the guests at the Maquoketa Valley Dollars for Scholars (MVDFS) Awards Event this Sunday, May 6th, at 3 pm in Delhi. Doug will have the honor of presenting four individual scholarships from the Maquoketa Valley Dollars for Scholars General Fund to the selected seniors who will be furthering their education after high school. We are pleased to preface Doug's attendance with sharing more about his personal accolades and story, and why community volunteerism efforts are so widely important.
People choose to volunteer for a variety of reasons. For some it offers the chance to give something back to the community or make a difference to the people around them. For others it serves as an example to family, friends and younger community members how a little effort can make a large impact.
Regardless of the motivation, the result of the efforts is what makes a community great. Volunteerism comes naturally to Doug Dabroski, which is why his list of contributions is long and impressive. Doug has used his talents and personal interests to give back and says his motivation for volunteerism is how it makes him feel. Doug adds, "It gives me a sense of accomplishment and it just feels good to do something for someone else. You just do it order to make your community strong and vibrant."
Doug spent much of his life working for Tri-State Engineering in Manchester and Delaware County Secondary Roads in the Engineering and Surveying Department and recently served as a Delaware County Supervisor. His wife, Karen, was a teacher at Maquoketa Valley for thirty-three years. It was important to them that the community they were living and raising their children provided the same opportunities as surrounding communities. They are proud to say that their children, Jason, a third grade teacher in the Marion School District; Megan, a physical education teacher at Linn Mar; and Kelli, a nurse at St. Luke's, are successful in part due to the opportunities provided to them by their community and the Maquoketa Valley School District. Doug started his service to others as he proudly entered the United States Marine Corps in 1970, going on to serve a tour in Vietnam as 0311 Rifleman and 8541 Scout Sniper. This experience set the stage for a life of service that Doug continues to live. As Doug and his wife started their life in Delaware County, they quickly fell in love with the community and discovered opportunities to give back. Doug's love of sports made volunteerism related to athletics a natural fit for him. He coached for many years and was the head of the Earlville Athletic Association when he approached the school board about reconstructing the Earlville baseball diamond. Doug also continues to referee basketball. He was the President of the Lone Pine Country Club Board of Directors in Colesburg which helped this small town keep the golf course a staple in the community. In addition to his contributions to baseball and golf, he assisted with the efforts to build a new high school track and softball and baseball diamonds. His civic duty led to serving years on the Earlville City Council which presented him with the opportunity to influence positive change throughout the community. As a member of the council Doug was able to influence decisions that would benefit the community as a whole and keep it vibrant and thriving. Doug views his participation on the Maquoketa Valley School District School Board as extremely important because he knows that a great school district is what drives and determines the success of each student who passes through. Doug believes that through a solid administration and exceptional teachers, the district is able to offer its students an education that provides the foundation for a strong future, whether going straight into the workforce or on to post-secondary education. "Our students are provided opportunities to excel in academics and participate in athletics and fine arts," says Doug. He believes that the Maquoketa Valley Dollars for Scholars program is "second to none". His family supports the program because it provides students resources that help them get a jump start on their college education.
As Doug reflects on his service to the community, he is surprised by the long list of things he has been involved in and the number of hours he has spent on various boards. His surprise comes because he does not inventory what he does. Doug adds, "I do what I do because of how it makes me feel when I give back."
As Doug and his wife enjoy retirement they are focused on spending time with their children and five grandchildren. Doug intends to continue to give back in any way he can. He has most recently  been asked to be the speaker at a Memorial Day celebration in Earlville. He also gives presentations to various schools, historical societies, and other organizations about his Vietnam War experiences. "I have come to realize that I need to share my story with the younger generation. I think it is important that they understand the sacrifices that were made for them," says Doug.
In closing, Doug encourages everyone to find a way to volunteer. He believes that the more we give, the better we feel. Volunteering builds relationships, increases skills and provides a natural sense of accomplishment. Doug also mentions to, "find a way, identify what you enjoy doing or what expertise you have that can benefit others and then apply it to whatever project is in need of help."
---
Johnston Family Supports M.V. Dollars for Scholars
At the heart of the Maquoketa Valley Dollars for Scholars program are endowment funds established to honor the legacy of loved ones. This is the case in the Harlan and Thelma Johnston Family Scholarship.
Harlan and Thelma Johnston, married in 1942 and farmed on the Johnston family farm west of Hopkinton.  This farm, settled by Harlan's grandfather, Alexander Johnston in 1856, continues to be owned by the Johnston family.  In 1950, Harlan and Thelma moved to Hopkinton, where they purchased a hardware, plumbing and heating business and raised their two children, Joyce and James. 
Thelma Johnston served on the Hopkinton School Board at the time of the reorganization into the Maquoketa Valley School District.  Harlan and Thelma's children graduated from Maquoketa Valley in 1963 and 1964, respectively.  Joyce (Sedlacek) is now retired as a library media specialist from Cedar Rapids Schools.  Jim recently retired as vice president of Heartland Investment Associates in Cedar Rapids.
Photo: Harlan & Thelma Johnston
Harlan passed away in 1994.  In 2012, Thelma, Joyce and Jim decided to establish the Harlan and Thelma Johnston Family Scholarship Fund for the MVDFS in honor of the Johnston Family. It's no coincidence that they chose an
organization that has education as its foundation. "Education was part of the culture in which we grew up and was very important to our parents.  Having Lenox College in Hopkinton exposed our family to a higher level of learning and my grandfather and father always expressed how important getting some type of education was.  There was never a question whether or not I would go to college", stated Joyce.  Jim added that "Eight of nine of my grandfather Johnston's children attended Lenox College and all 18 of my Johnston first cousins and their children have continued with some form of education beyond high school." 
"Power in numbers" is more than just a phrase - it is a vital part of the success of the MVDFS program and is part of the reason why Joyce and Jim continue to support Dollars for Scholars.  Joyce said "We know so many of the donors and to see so many of us coming together as a community to support these students is phenomenal."   
Keith Kramer, the President of MVDFS, has watched the program grow beyond what he could have ever imagined. He attributes its success to the numerous student benefits seen by the community as well as the positive donor experiences it provides. Kramer stated, "Each donor has their own unique reason for establishing these endowment funds but there is one common denominator - the value that we as a community place on education and lifting our students up."   
Neither Joyce nor Jim live in the Delhi/Hopkinton area, but the community is part of their heritage and what has shaped them into who they are today. They see Maquoketa Valley Dollars for Scholars program as a way to help students shape their future.  It is their hope that all students can find their passion in life and use education as a way to turn that passion into a career.  They cannot think of anything that would honor their parents and grandparents more.   
---
Clifton's are the winning bidders of the donated quilt!
Thanks to all who attended the annual soup supper fundraiser and quilt auction! We served nearly 200 people and added nearly $1,700 to our scholarship program.  We were very happy see all of you there. Thank you Harry Lahr Auctions for auctioning off that fantastic quilt and to Jim and Connie Clifton who were the winning bidders at $425! And of course a special thank you to the anonymous donor of that beautiful quilt. What a thoughtful way to support our cause!
Photo: Sue Digmann, Connie Clifton, Jim Clifton, Karen Knipper
---
Sending our BEST WISHES to the Class of 2017!
Dream Big!
$61,800 awarded to Maquoketa Valley 2017 Graduates to help them pay for college!
---
Congratulations Class of 2017!
Congratulations Maquoketa Valley Seniors on a job well done!
Thanks to everyone who attended the awards ceremony and helped honor these students!
Scholarship Award Recipients for 2017 can be found here.
---
Dr. Wee to Speak at Maquoketa Valley Awards Event
The Maquoketa Valley Dollars for Scholars is pleased to announce that Dr. Liang Wee, President of Northeast Iowa Community College (NICC), will be among the guests at the Maquoketa Valley Dollars for Scholars (MVDFS) Awards Event this Sunday, May 7th, at 3 pm in Delhi. Dr. Wee will have the honor of presenting two individual scholarships from the Maquoketa Valley Dollars for Scholars General Fund to the selected seniors who will be furthering their education after high school.  MVDFS Board President Keith Kramer stated, "We would like to thank Dr. Wee for his outstanding service to our communities and for presenting scholarships on our behalf. We look forward to a wonderful afternoon honoring the academic achievements of the students who will go on to pursue their dreams and goals at a college of their choice."  
Wee arrived in the USA on July 4, 1983 after serving in the Singapore Armed Forces.  He received his education at the University of Arizona, Tucson.  He has been an educator for over 25 years, first serving the University of Arizona, then Luther College, and now as president of Northeast Iowa Community College. 
Wee straddles two cultures, sometimes successfully and other times not.  He grew up in a rural village in Singapore.  The Wee family history started in China and spans over 1,000 years with 41 generations recorded.  A lesson he learned very early in life from his elders, and continuously reinforced over the years, was the importance of the collective and common good.  As he progresses in life, Wee has a deeper understanding and greater appreciation of his elders' teaching.  Their teaching has impacted his personal and professional journey. 
Dr. Wee is a passionate and dedicated advocate for community vitality and economic development through education. 
---
MVDFS Dueling Pianos and Karaoke Night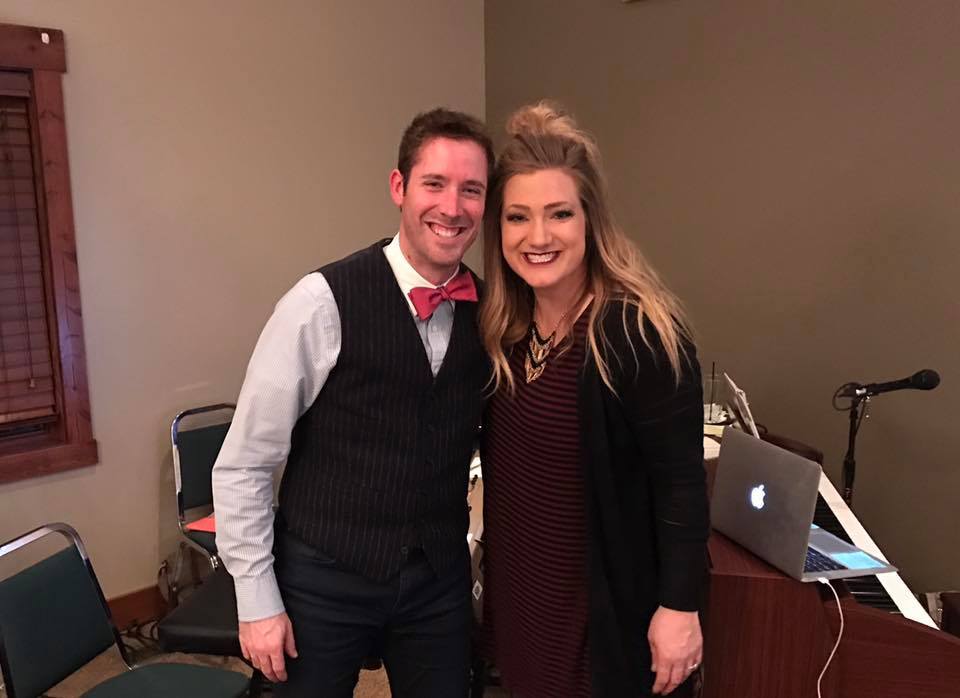 Maquoketa Valley Dollars for Scholars Dueling Pianos and Karaoke Night, raised just over $4,800 for MV graduates! Special thank you to our talented pianists, Chris Hadley & Alissa Unertl, Pin Oak Pub & Links, as well as our guests that joined us for this wonderful event!
---
Serving the Maquoketa Valley Community School District in Iowa
"Never doubt that a small group of thoughtful     
committed citizens can change the world;  
       indeed, it's the only thing that ever has."       
Margaret Mead
Support Student Education
Here at Maquoketa Valley Dollars for Scholars we are all about creating opportunities for graduates to continue their education.  Join us in supporting Maquoketa Valley graduates by learning more about us, our upcoming events, and how you can make a difference today.   We now accept online donations.
Apply for Scholarships
Online Scholarship Applications are now being accepted.  Maquoketa Valley Students start your online profile today.  Login in HERE.
Contact Us
If you'd like more information about our organization, it's mission, or how to help.  Please email us today at MVdollarsforscholars@gmail.com or call us at 563-922-2091.  We will be happy to answer your questions.